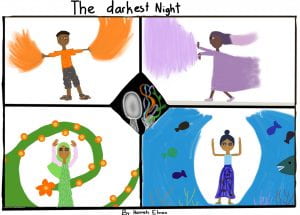 ,
The author, Frances Dowell, made some videos for my class back in 2020. She told us to start with a 'what if' question. A what if is a hypothetical story prompt, where you say " what if……" and then think of something that would be a what if. I wrote "what if magic was real' then before I knew it, I had idea for a story in my head.
Speaking of my story, the story that I wrote is about 4 kids who inhale some magical mist on earth, that gives them magical powers. They get into all sorts of magical shenanigans before realizing their purpose is to stop an evil Demoness from destroying the realms, magic and mortal. Can they fight an 10,000 year old evil Queen, all while finding out that the people they trust to help them, may not be so innocent after all. Find out in "THE DARKEST NIGHT" okay, back to Frances.
Frances also met with everyone to give them feedback. The feedback she gave me was "you have a novel on your hands" and I do!! I have loved writing my story and I am very excited to finish it. And to Frances, if you are reading this, I'm almost finished and I am very excited for you to read it!!